Expo1910
Music CD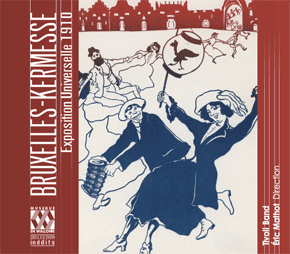 What traces survive of the 1910 Universal Exhibition? There is a building, a pile of photographs, site plans and a plethora of written reminiscences – all these are visual and might lead one to believe that this global event was devoid of music. But how wrong that would be! As in the silent cinema, which was then all the rage in the city centre, music played an equally central role in the exhibition.
A dozen bandstands, several concert halls, a permanent orchestra and a variety of other orchestras as diverse as those of the village of dwarfs, the Senegalese village and even the Zillerthal brasserie, not to mention the makeshift stands of other musical ensembles, were there to entertain the exhibition's 13 million visitors with a repertoire that could not exactly be termed 'light' considering the number of musicians and instruments involved, let alone the quality of the music they played. Even more popular still was the abundant music on offer at the Brussels "Kermesse", a re-creation of the city's old quarters and their popular culture. Here the noisy strains of Michel Heirwegh's Danse marollienne drew a merry throng and here crowds danced around the village band of F. De Bel. Here, too, strolling musicians played their accordions and their barrel-organs complete with performing monkeys.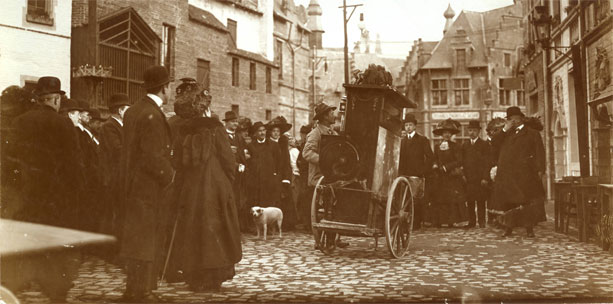 The repertoire of the 1910 exhibition was not confined to the Belgian capital. Louis Frémaux's Zwanzinette enjoyed a phenomenal circulation throughout Europe, with greatest success in Germany. Franz Lehár, the celebrated Austro-Hungarian composer, passing through Brussels in 1910, heard this local dance which captured the rollicking mood that characterised the inhabitants of Brussels and is called "zwanze" in Flemish, and in 1911 wrote a naturalist operetta called Eva, set in the small world of working-class Brussels. Its hit tune was a Viennese-style "zwanzinette" which many an orchestra across the Rhine was to absorb into its repertoire.
Louis FREMAUX, La Zwanzinette (1907), extraite du CD Bruxelles-Kermesse
Universal Exposition 1910, by the Tivoli Band, conducted by Eric Mathot, Musique en Wallonie, MEW0953. 
Information and sales at Musique en Wallonie.