Expo1910
Publications
Although the Universal Exposition of 1910 represents a crucial moment in the history of Brussels, it remains little known. With this in mind, the historians of the Faculty of Philosophy and Letters launched an exceptional research project which gave rise to an carefully documented and richly illustrated book published by Racine with the support of Dexia. The University's musicologists also made their contribution by studying the music which was popular in Brussels during the period, and in particular at the time of the Exposition itself: the audio CD produced by Musique en Wallonie makes it possible to discover the first rhythms of jazz in Europe.
BOOK
The Universal Exposition of 1910 at the ULB
The exhibition commemorating the 1910 Exposition is supported by the publication of a book which traces the history of the Exposition and which recounts the ups and downs of both exhibitors and visitors, the urban development of the site, the construction of the ULB's Solbosch campus, and what still remains of the the 1910 Exposition.
This book is published by Racine with the support of Dexia.
192 pages, 21 x 29 cm, bound in yellow, with more than 200 colour and black and white illustrations. Available end January 2010.
PRICE: 29,95 EUR, inc. post and package within Belgium.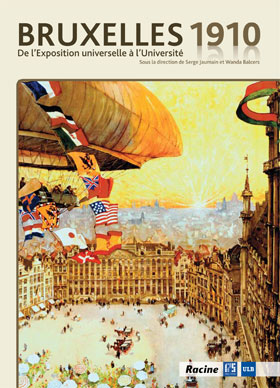 MUSIC CD
The choice of music is representative of the so-called "light" music which was to be heard in 1910, not only at the Exposition, but also in the many cafés and nightclubs of Brussels. The quality of this music is consistently high and the tone is light and lively, reflecting the lyrical successes of the La Monnaie theatre hall (often reproducing the exotic rhythms of America or Africa) that could also be heard in popular cafés or at the Maison Delune.
The compositions of Frémaux or Paans, which were popular throughout Europe, are played, as at the time, by an orchestra of more than forty musicians, the Tivoli Band, conducted by Eric Mathot, a renowned expert and collector of the music of this period.
The CD is published in a bound volume of 60 pages, richly illustrated in colour.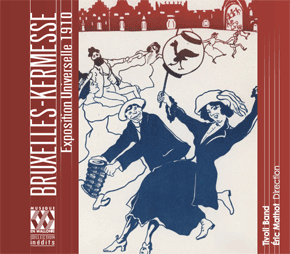 The CD will be available from the first week of February. It can be purchased directly from the Universits Press (PUB, Avenue Héger) or via the internet site Musique en Wallonie..